How to choose a cool shirt in summer? Ultra Shirt series comparison table here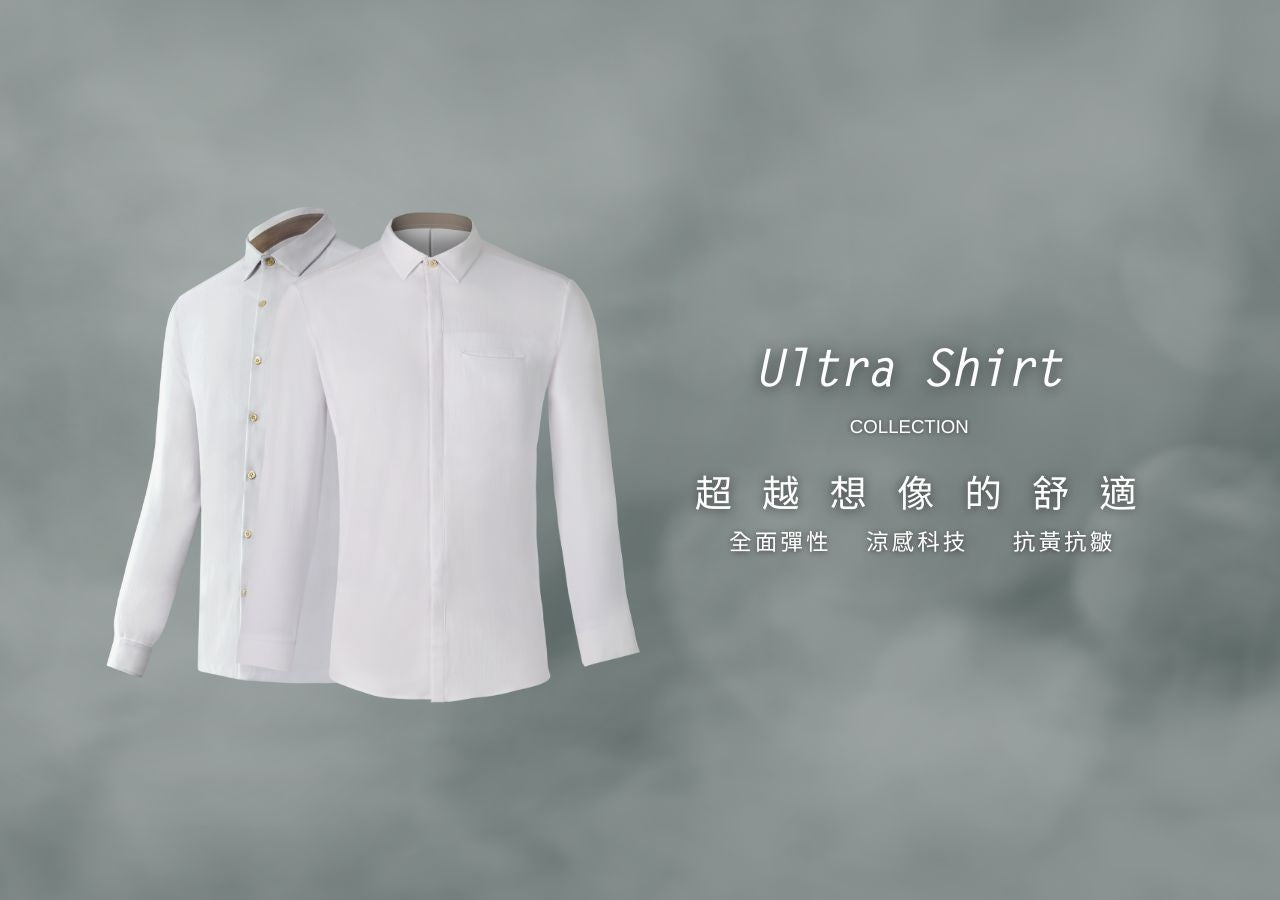 The temperature has exceeded the 30-degree mark recently. With the launch of the Ultra Shirt Air cooling shirt, the editor has received many messages asking, what is the difference between the Ultra Shirt and Air versions? Today, we have put together a comparison table of specifications of the Ultra Shirt series for you, allowing you to easily choose a new strategy for fighting the heat this summer!
Ultra Shirt Series Comparison Table
The Ultra Shirt ultra-limited shirt achieved success of over one million yuan on the US fundraising platform kickstarter and Taiwan's flingV last year. With the development of the product line and customer feedback, we launched the Ultra Shirt Air version! We have simplified some designs from the original Ultra Shirt, and we hope to create one that is lighter and more suitable for daily life, but still maintains coolness, breathability and other functions, giving people an experience of "comfort beyond imagination".
The Air version of the Ultra Shirt series retains the same fabric technology and manufacturing process as the Ultra Shirt. We insist on using bluesign® certified environmentally friendly recycled materials. The Air version, which combines avant-garde technology and patented fabrics, is also equipped with 9 major functions such as cooling, breathability, moisture absorption and quick drying, temperature adjustment, four-way elasticity, anti-wrinkle and anti-yellowing, and odor control, allowing you to wear it in daily wear and business occasions. You can feel comfortable and comfortable when using it.
Exclusive cooling fabric double cooling
ICE-CAFÉ™+xylitol technology is perfectly combined to give you a cooling sensation as soon as you put it on.
Using the exclusive patented "S.Café ICE-CAFÉ™ environmentally friendly iced coffee yarn", it can absorb body heat and quickly dissipate it, maintaining a refreshing and cool feeling. Compared with ordinary cloth, it can effectively reduce the temperature by 1-2 degrees when in contact with the skin.
When fabrics added with xylitol come into contact with moisture and sweat, they will cause an endothermic reaction and quickly start to cool down, making the body feel cooler.
The Ultra Shirt series, which uses environmentally friendly coffee yarn, also maintains the following functional characteristics
Elastic and comfortable: special mechanical elastic textile technology is used to make the shape stiff and elastic enough, so that no movement is restricted.


Odor control: No longer afraid of the smell of sweat and smoke sticking around all day long. The patented material of iced coffee grounds can absorb odors such as sweat and smoke. The absorbed odor molecules can be completely removed through sunlight or cleaning, and can fight against odors for a long time.


Moisture-absorbing and quick-drying: absorbs sweat and takes away sticky discomfort. Iced coffee gauze technology can quickly and increase the diffusion range of sweat, increase the diffusion surface area, and also speed up the evaporation of water vapor.


Body temperature anti-wrinkle: Although anti-wrinkle shirts in the past can eliminate the ironing process, their shortcomings of being "airtight" are very criticized. The Ultra Shirt goes beyond adding breathability. The exclusive fabric we use naturally relaxes fibrous tissue and removes wrinkles as long as it comes into contact with body temperature.
TRANZEND
Facebook: Tranzend Taiwan
Instagram: tranzend_taiwan
Email: sales@tranzend.co.uk
---