Ultra Suit 3.0 Staff Interview x Michael | We believe form follows function and less is more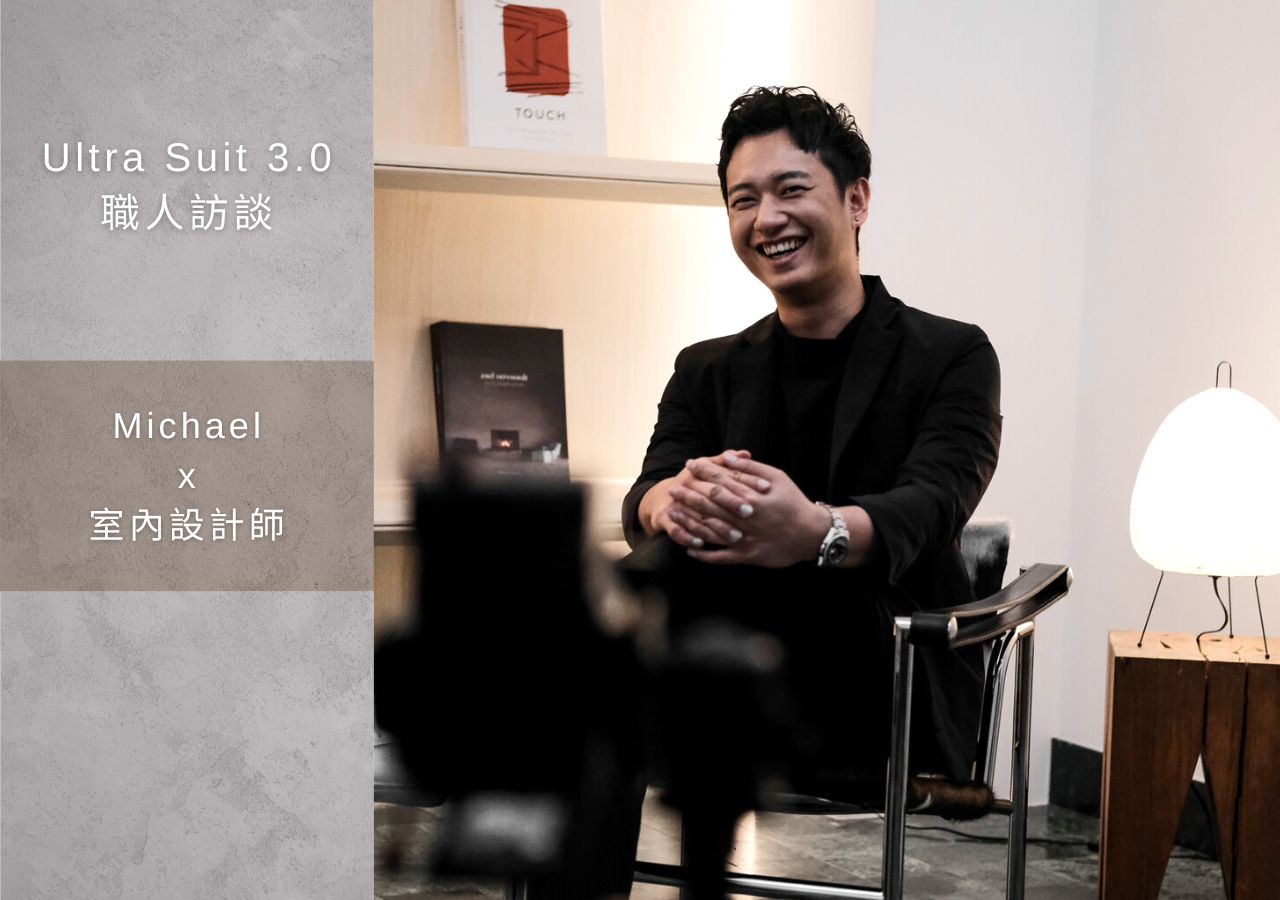 "I think every detail of Ultra Suit 3.0 is a return to the design philosophy of form followed by function and less is more that we believe in. I think it is very consistent with how we create space." As an interior designer, Michael compared the design aesthetics and functionality of Ultra Suit 3.0 to space design. What's interesting is that although they are in different fields, they are committed to the same goal. Let's watch the full version of Michael's employee interview video below.
Staff interview video
Today's guest: Michael
Occupation: "Eleven Room Ken" Founder/Interior Designer Style: Ultra Suit 3.0 Classic Black/Single Breasted
Staff interviews
1. Tell me about who you are and what do you usually do (career)?
My name is Michael , and I am engaged in the interior design industry. I have lived in the United States, Singapore and London before, and then returned to Taiwan to settle down. Then I started working in this design industry for about 5 years.
2.What do you do after work?
In fact, I quite like going to exhibitions, staying in different hotels, eating in different restaurants, and traveling to various countries to see different designs. The first one is that I think design is a way to solve problems. For example, in Singapore, they pay special attention to the environment in design, because they are very short of materials, such as water, sand, vegetables, etc., which are imported from abroad, so they pay special attention to it. to solve natural resource problems. After I went to London, I began to come into contact with more works of previous masters. They had more culture and history, and I felt that they had a great idea about changing human beings' lifestyles, and how they would allow human beings to follow the future. These histories coexist with nature, and I find the idea of ​​these designs very interesting.

I'm not a very money-driven person, but I enjoy the sense of accomplishment that drives me forward. For example, if a client doesn't have a big budget, but he is willing to give me the money he has saved for a long time and wants to open the first store, I will feel very touched, and I must help you design this thing well, or It may be an older person. He said, oh, this is the last house we will live in after retirement. We want to live here for the rest of our lives, and then we will hand this house over to you. I feel If you are very touched, you will be very enthusiastic and want to help him make this thing better.

I think that during the design process, I will also have a deep understanding of the user's living habits and lifestyle. In fact, many times we are doing the same thing, but in different ways. Things, for example, when I go to different countries, everyone is doing eating, but some people like to eat with their hands and think it is cool to eat directly, but some people hope that eating is very important. It has a sense of ritual, paying attention to the napkins, tableware, bowls, plates, and cups used, and they are all very story-telling.

In fact, there is no right or wrong in any of these things, but the most important thing is what goal and state you want to achieve. After working in this industry, I feel that I have a more macroscopic and tolerant view of life, and I can accept different cultures. This thing is quite interesting.

I think whether you are living, working or designing, form is important, but in fact, the why behind it is the most important, that is, why you do this, and this why can only be achieved if it is true. To impress people, whether it's making people consume it or making them like it, the story behind it and the why behind it are the most important.
3. What is the goal you want to accomplish next?
In the short term, I hope to complete more projects that I find interesting and diverse and have ideas for. In the medium term, I hope to build myself an art museum where I can store my collection. In the long term, I hope to participate in changing Taiwan. The energy of the entire design and these aesthetic things
---