How many ways can a white shirt be worn? Check out five practical white shirt styles!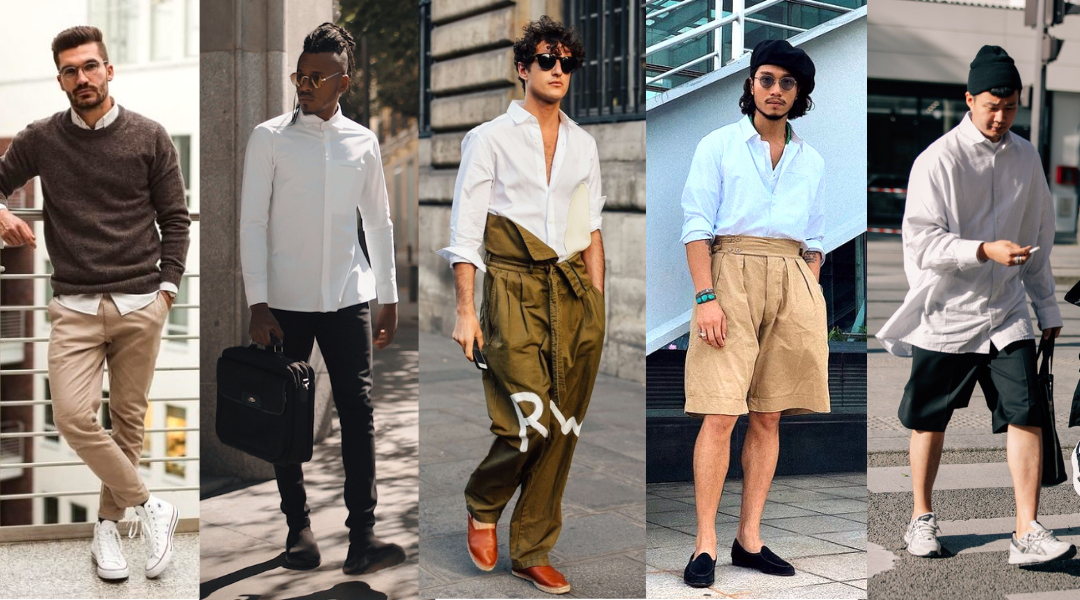 When you think of white shirts, do the images of "workplace", "monotonous" and "rigid" always come to mind ? Today, let the editor break your myths and recommend five practical white shirt styles, so that you can show a new look from Monday to Friday!
The "white shirt" has a simple design outline and versatile colors. From students, professionals to fashionistas, men, women, old and young, probably everyone has such a piece of clothing in their wardrobe! Some people may have a misconception that although a simple and plain white shirt is a versatile item, it seems to look the same no matter how you pair it with it. In fact, this is not the case. Knowing how to flexibly use different items to combine can also create an extraordinary dressing style. This time, let us show you how to make the versatile item "white shirt" fashionable and have different looks~
Business casual style
Pairing a white shirt with suit pants and casual shoes must be the most common and basic matching method for everyone. The white shirt itself gives people a cleaner and dignified feeling, so it has become one of the first-choice upper body items for many working professionals. It is usually worn for work and formal occasions. For the style, you will choose fabrics that are more suitable, skin-friendly and elastic. When wearing this style, you should pay attention to whether the shirt is straight and neat, otherwise the wrinkled upper body will appear unprofessional and the impression will not be good. Heavily discounted!
Ultra Shirt is a demonstration of business casual style matching. It is made of patented iced coffee sand. In addition to "the fabric is skin-friendly and comfortable" and "anti-wrinkle", it uses a special mechanical elastic textile process to make the shape stiff and "elastic" enough.

If you think this looks too formal, try changing to cropped pants or jeans, paired with sneakers or white shoes. It will be more casual than formal suit pants!
(
Image source: Pinterest )

Japanese simple style
Japanese minimalist style gives people a refreshing and simple feeling. It usually uses a loose fit to present the overall outline. An oversized shirt can be worn on the upper body to add a lazy atmosphere to the whole body. The lower body can be worn with a loose or straight fit. Wear trousers to match, and pay special attention to proportions when using wide tops and wide bottoms. You can choose to tuck your top into the trousers or choose wide trousers that are long enough to cover the tongue of the shoe. This is also a good idea! In addition, color tone is also one of the keys to creating a successful Japanese simple style. Usually, different colors of the same tone are used for matching. The matching method of the same tone can make the whole look comfortable and refreshing, and the color selection will not be too complicated. The designs and colors are used for push-up and stacking, and the plain colors are mainly used as the base for matching.
Tucking your top into pants or choosing wide pants that are long enough to cover the tongue is a good way to solve the proportion problem! In addition,
the Ultra Shirt
is designed with an "anti-slip strip" on the hem of the shirt, allowing you to move around with peace of mind while tying your clothes without worrying about the shirt leaking out! (Image source:
everylittled
)
Use a loose version to present the overall silhouette, with a comfortable and lazy atmosphere ( Picture source: Pinterest )
Straightforward street style
Street style is a popular fashion style in recent years. It has a loose and straightforward shape, neutral and tough, exuding street charm. Different elements are often mixed together. It is a matching style that can be controlled by both men and women. As a must-have item, the white shirt can naturally be combined with many different elements to make changes. Whether it is military uniforms, work clothes or fashion products, it can be easily paired with a casual street look. In addition, the editor also highly recommends accessories such as outer vests and belts as embellishments to create a street-like style.
Drooping belts, straps or trouser chains are one of the common accessories in street style. The casual and casual style adds a strong street charm to white shirts.
(
Image source: Pinterest )
College Wen Qingfeng
If you want to create a youthful and high-quality image, college style is definitely your first choice for matching. The origin of college style is represented by the campus attire of the famous "Ivy League" schools in the United States, and the shirt matching led by aristocratic students who are keen on sports, communication and vacations. Wool vests or V-neck sweaters were extremely popular in the 1980s, and this style is not as restrictive as traditional formal wear. It is simple, clean, refined, and at the same time has a little retro flavor. If you don't know how to match a white shirt, just put it on a sweater or a knitted item. You will instantly look a few years younger. It's best to wear a laptop bag or a clutch when walking on the road. There is a kind of elegant scholar's temperament, as if he has returned to his naive appearance as a student.
(Image source:
Pinterest
)
(Image source:
Pinterest
)
Gentleman retro style
Gentleman retro style is an extended version of the business casual style mentioned above. Common matching types include British gentleman or American retro. It mainly uses items with retro elements to match. A white shirt can be worn with a coat, leather jacket or casual suit jacket. , compared to the business style, it is more layered and rough. In addition, you can also use accessories to add details and richness to the overall outfit, such as gentleman's hats, overalls, sunglasses, jewelry, etc... They are all very suitable for matching!
The Commodore Ultra Shirt is worn over a Henley collared shirt. The design details of magnetic cuffs and hidden placket are neat and simple, making it easier to put on and take off. It can be used with berets, sunglasses, scarves, The accessories are stacked in layers, and a retro yet detailed outfit is recommended to you! (Image source: @chainloop )
Gentleman's hats, suspenders, leather jackets, etc. are all retro items that are perfect for matching with white shirts! (Image source:
Pinerest
)
Conclusion
Do you still have a monotonous and boring image of wearing a white shirt in your mind? Let me tell you that white shirts can also be worn fashionably and in many different ways! And the editor secretly tells you that there are many outfits in it that are all made with Ultra Shirt . The neat silhouette and rich detailed design make it comfortable and convenient to put on, take off and match. For those who don't know yet, please click below. Let's find out!
Ultra Shirt product page: https://www.flyingv.cc/projects/30534

What is your favorite outfit style in this article? You are welcome to leave a reply below and let us know what items you want to see paired with. We will see you in the next issue!

---
5 comments
---
---